Reflections from students on the EDUC course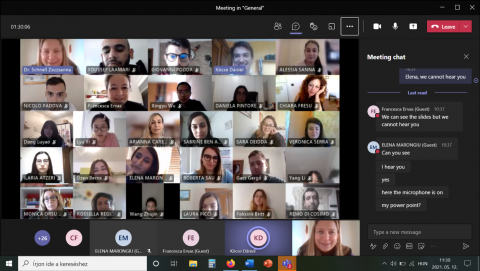 1. Zeng Hong, China, English and American Studies major in the University of Pécs preparatory course, University of Pécs, Hungary
The thing I liked the most about EDUC course is the form of teaching, and it also surprised me because at first I thought the course will be a bit boring but we had many Italian colleagues, which is very interesting because we had many opportunities to communicate with them. Also during the course I got to know more about Italian culture. It is really hard to come by. Anyway, it is a very beneficial course, thank you so much for this semester!
2. Dong Luyao, China, Preschool Education B.A. 1st year major, University of Pécs, Hungary
1. what you liked about the EDUC course, 2. how was is special, 3. what was best about it, 4. what was surprising to you maybe... anything like this. ….
1. This is a very good course that we can study and communicate with people from other countries 2. We have opportunity to interact with people from different countries, and learn about cultural differences and knowledge 3. We learned and had a group work. 4. Everyone was so friendly, especially the team work we did was so successful and we shared our own ideas, gave advice to each other. That was a great experience! And thank you so much, professor!
3. Britt Fokkink The Netherlands, Preschool Education BA 2nd year major, University of Pécs, Hungary
Dear dr. Schnell,
I really enjoyed participating in the classes. I found it very interesting to participate in multicultural classes and to get to know different cultures.
I also really liked the structure of the lessons, first explanation, a breakout room session and then evaluation.
I also found it interesting that the subject of the exam is so topical and that you learn more about how other countries deal with the corona virus and how they feel about it.
What I found surprising was despite the fact that it is online, the communication was good and that you also had really good contact in the breakout rooms.
Kind regards,
Britt Fokkink
4. Sabrine Ben Aguil – Italy, Universitá di Cagliari
It was a very interesting and original project.I think we've all done a great job; I think multiculturalism was a positive element that allowed us to work together and communicate while being distant. I thank my colleagues for this great experience and collaboration together, and I thank Professor Ervas and Professor Schnell so much for this opportunity they gave us!
5. Alessia Sanna Universitá di Cagliari, Italy
Hello everyone! I totally agree with my colleagues. This course was a great experience for me, because I have never had this kind of opportunity before. It was a pleasure to meet and work with people from other countries and learn many cultural aspects I didn't know so far, everyone was very kind and friendly. I want to thank everyone for this incredible work, in particular our teachers Prof. Schnell and Prof. Ervas. I think lessons were interesting and I really loved the way you involved many cultures in them. I am so happy for the work we did together, thanks a lot again!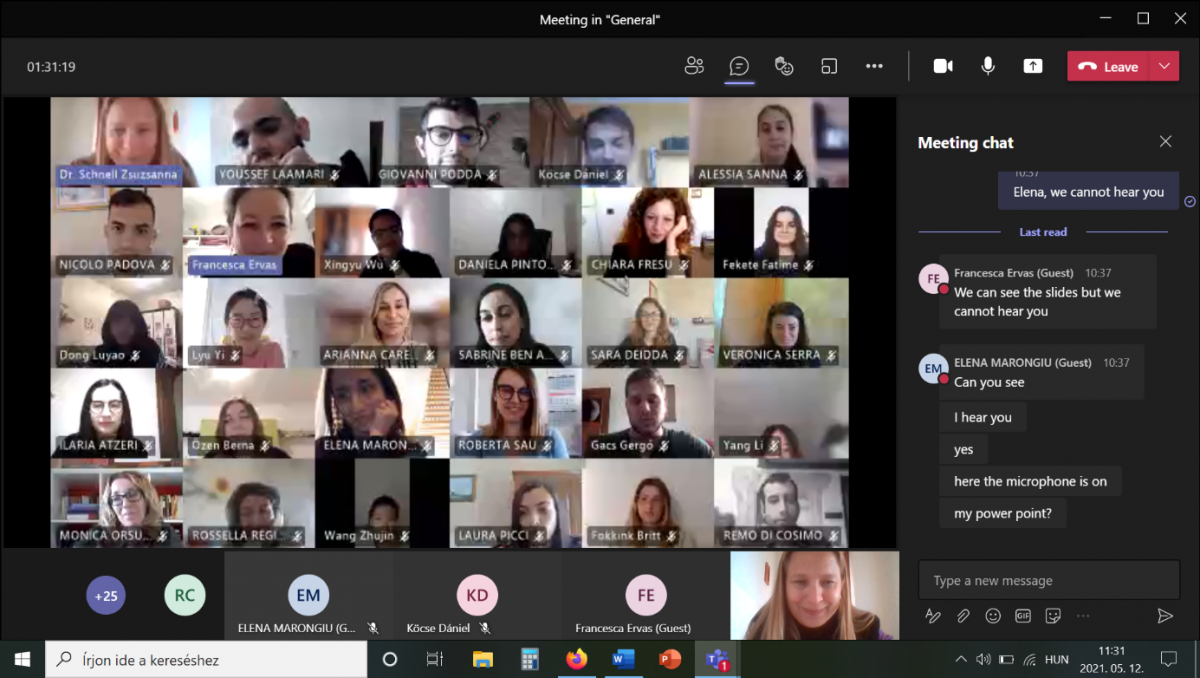 6. Berna, Özen, Turkey; Psychology major at the University of Pécs preparatory course, University of Pécs, Hungary
I found fascinating the intercultural communication.I think it was really colorful and informative.I liked the colleboration with the Italian students.In my presentation group I was the only Turkish and my teammates were Italian.It was such a nice experience to work with them.
7. Monica Orsucci Italy, University of Cagliari, Italy
The Educ project was a great challenge for me and a great opportunity to get involved. The friendly and non-rigid atmosphere was an incentive to feel united by a love of knowledge. The multicultural point of view and the group work gave this university project a contagious and inviting liveliness. The initial limitation of the English language was overcome beyond all expectations and provided an opportunity for human and cultural comparisons that connected me with the world. From Cagliari, to Budapest, to China, everything seemed simple and in perfect harmony. I can only thank Professor Schnell for the friendliness and encouraging smiles she lavished on us and Professor Ervas for believing in us beyond our own expectations. Thank you very much!
8. ARIANNA CAREDDU University of Cagliari, Italy
I have thoroughly enjoyed this course, but there obviously were certain classes that I absolutely loved; I am referring in particular to those on visual metaphors, autism, and the use of metaphors in politics. More in general, this course has given me a great opportunity to compare my approach to that of students of other universities and be exposed to teaching methods and approaches different from those I was used to. I believe the study of pragmatics is crucial in this field, and being able to study it in a common language has allowed us students to enjoy a true cultural exchange, with meetings that gave us the opportunity to underscore commonalities and differences in sayings and expressions in our respective languages. I truly hope this course will be delivered in this way for next years' students as well, as it is the best way to understand the subject.
9. YOUSSEF LAAMARI University of Cagliari, Italy
the educ course was a wonderful experience that allowed me and my classmates to improve ourselves from several points of view. it was a course that made it possible to improve communication and interaction skills, an experience that allows us to learn many cultural aspects, a new way of teaching!. Thanks for this wonderful experience!
10. Gergő Gacs, Psychology major, University of Pécs, Hungary.
Hello! I think this course had what a lot of courses did not. I am talking about the way the teachers made it so interactive, making the classes really intriguing. I am studiing psychology and yet this course had so much to offer. New knowledge, new information. And the fact that it was integrated and so international, made it even more enjoyable. I really liked it, thank you for the opportunity.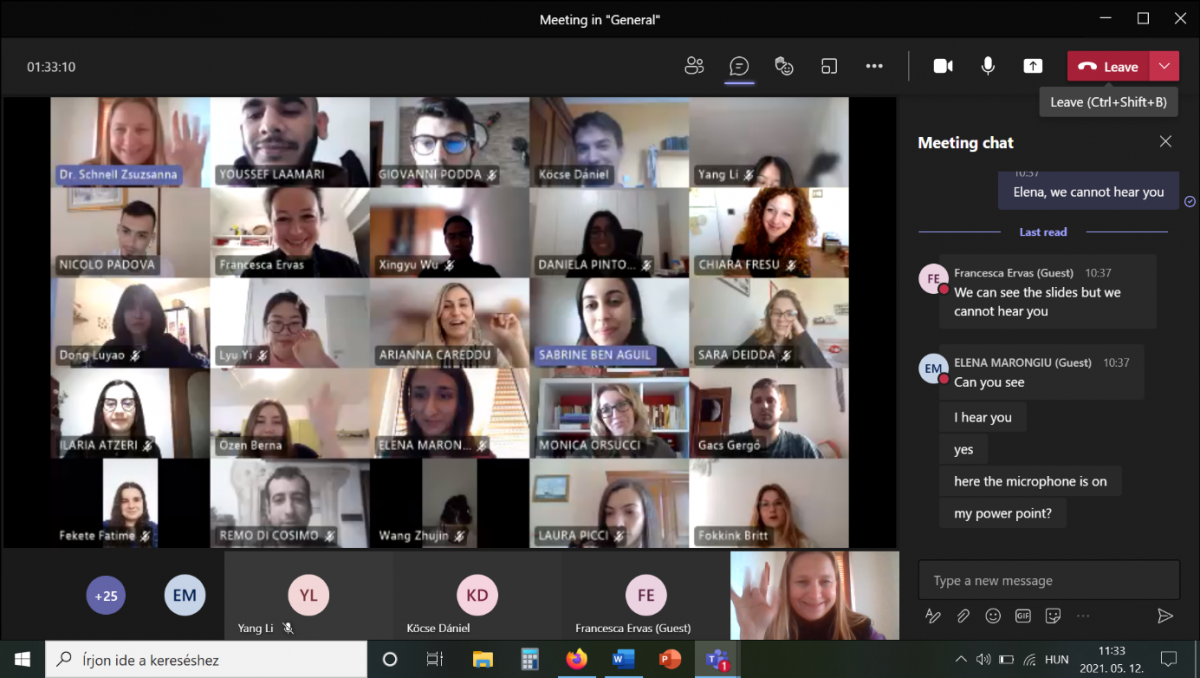 11. REMO DI COSIMO, University of Cagliari, Italy
At the end of the course I must say that it was a good experience. I really appreciated all the examples that were given during the lessons, for a further understanding of the application of metaphors. I was also forced to learn some English, positive experience. Thank you for the opportunity.
12. DANIELA PINTORE University of Cagliari, Italy
The Educ project was very interesting, especially for the partecipation of students with different cultures and backgrounds, it was nice to study pragmatics with different cultural points of view. For me it was a challenge with the English language. Thank you very much for this this opportunity.
13. ILARIA ATZERI University of Cagliari, Italy
The EDUC course was a wonderful experience for me. During these lessons I enjoyed interacting with people from different countries and learning about their cultures despite the forced distance. We were able to study pragmatics in a new way. The lessons were very interactive. For these reasons, I would like to thank our teachers Prof. Ervas and Prof. Schnell and all my classmates. Thank you for this amazing opportunity!
14. ANGELA HERRES University of Cagliari, Italy
I feel very grateful for this experience, that allowed me to share and discuss different points of view and helped me to reach others all around the world. There was a very friendly atmosphere and our professors gave us the opportunity to express ourselves, constantly stimulating the debate between us and being always available to clarify when we missed something or something wasn't clear. This was a different course from the others, and I have learnt a lot.
15. LAURA PICCI University of Cagliari, Italy
The EDUC project was really interesting! I would like to share one of the memorable lessons of the course for me. The first lesson was absolutely surprising because I didn't expect to speak in English with a few people in a small classroom. It was a great experience because I think it's an incredible opportunity to learn to converse with other people in another language but also to know the customs of different countries. I think it's very important to organize a project like this within the university to give everyone the opportunity to get involved, through communication, in another language with new people.
16. Xingyu Wu, China, University of Pécs International Studies Center (ISC), Preparatory Student, Psychology major
This is the most harmonious and friendly course I have been involved! I am so sorry that I didn't open my teams for a while, then I missed your message. The atmosphere in this class is so great for a international student to take part in.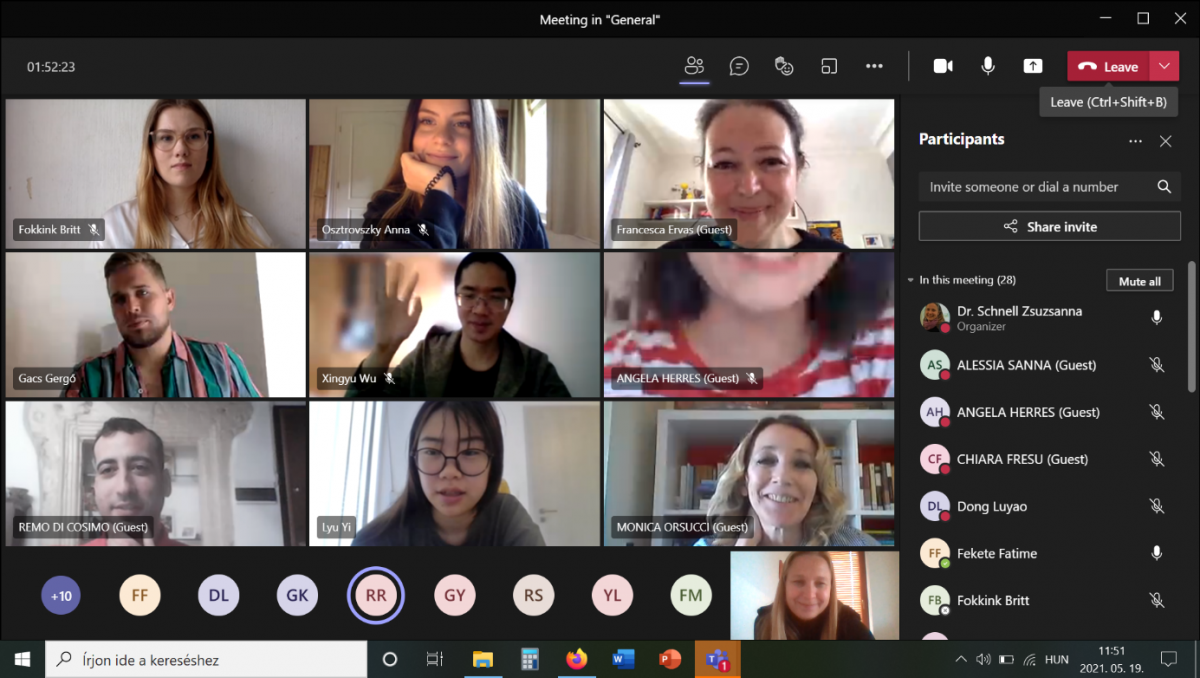 English